AZURE KINGFISHER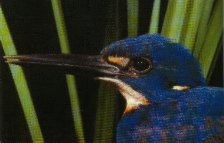 Photo: C & D Frith
Australian Tropical Rainforest Life

AZURE KINGFISHER
Alcedo azurea 18 cm
· In Australia the Azure Kingfisher occurs widely on watercourses and lakes in the
north and east that have densely vegetated margins.
· Mostly it is seen skimming over the water in rapid flight, or plunging for small fishes
from a low perch.
· Its call is high pitched and difficult to hear.
· The nest is a hole in a bank close to the water's edge.
· Round Chambers Wildlife Rainforest Lodge it is present on watercourses in the
rainforest, and at Lake Eacham.