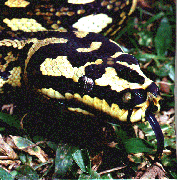 Photo: C & D Frith
Australian Tropical
Reptiles & Frogs
Carpet Python
(Morlelia spilota)
The carpet python is one of the most commonly known snakes.
It is variable in colour and pattern and it can grow up to a length of 2 metres.
Sometimes it can be confused with the Amethystine Python which has larger more tortoise-like scales on its head.
Habitat:
The carpet python lives in a habitat range from the wet tropics to near arid desert.