THANK YOU

My special appreciation goes out to Alita Caon & Marianne Utry
(Students: Bachelor of Technology (Eco-tourism) Flinders University, South Australia) who worked tirelessly, with great devotion to take this project from concept stage to completion.
---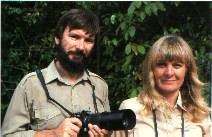 Thank you to Clifford and Dawn Frith:
The majority of the photographs you have seen on our Wildlife Website have been scanned from well known nature books written by Clifford and Dawn Frith.
The quality of our scanned photos does not do justice to the amazing photography found in the Frith's books.
Clifford Frith's career began as a post-graduate student at Monash University in Victoria, before he became a freelance Zoologist, artist and photographer. Dawn graduated from London University with an honours degree in Zoology, followed by a Ph.D. in Marine Science.

Their joint researches have included work on crustaceans, insects, plants, amphibians, reptiles and birds.
Clifford and Dawn published their first book, "Australian Tropical Rainforest Life" in 1983, and have been producing amazing and informative books ever since.
Books in their series include:
Australian Tropical Reptiles and Frogs
Australian Tropical Reef Life
Australian Tropical Birds
Australian Tropical Rainforest Life
Australian Tropical Butterflies
Australia's Cape York Peninsula
Australia's Wet Tropics Rainforest Life
Their books are reasonably priced and may be purchased during your stay at Chambers Wildlife Rainforest Lodge, from most quality bookshops or write to P.O. Box 581 Malanda.
---
I would like to express my appreciation to the following people, whose wildlife advice was invaluable during the production of this website.
Tamara Smith ( Department of Environment and Heritage, Lake Eacham)
Andrew Dennis ( Department of Environment and Heritage, Atherton)

Steve Comport (Tropical Forest Research Centre, Atherton)

Elinor Scambler (Tableland National Park Volunteers)

Beth Stirn and Tanya Murphy (Tree Kangaroo and Mammal Group)

Nev Simpson (Tableland Frog Club Incorporated)

---

Thank you also to anyone else that I have overlooked,
Yours Truly
John Chambers
Webmaster
---