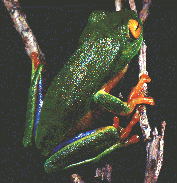 Photo: C & D Frith
Australian Tropical
Reptiles & Frogs
Dainty Green Tree Frog:
( Litotria gracilenta)
Close relative of the Yellow-thighed Tree-frog, but differs from it by being smaller in size.
The hind side of the thighs can be a maroon or reddish-brown colour.
Can adopt a inconspicuous flattened posture by holding its limbs tight against its body, closing its eyes and retracting them, thus exposing only its leaf green colouration.
Habitat:
May be found on floating vegetations, on reeds in swamps and streams or in shrub or tree foliage along rivers.