DOUBLE-EYED FIG PARROT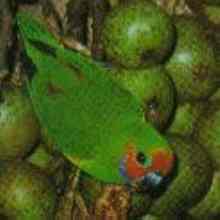 Photo: C & D Frith
Australian Tropical Birds

DOUBLE-EYED FIG PARROT
Psittaculirostris diophthalma 13-15 cm
· The Double-eyed Fig Parrot is Australia's smallest parrot.
· It is found in three distinct populations down the east coast of Australia from Cape
York Peninsula to northern New South Wales.
· Both sexes have a red forehead, but the males also have a red cheek patch, as
opposed to the females' which is usually yellow.
· Their eggs are laid in holes in dead, sometimes perilously shaky, trees.
· Unlike many larger parrots, fig parrots feed very quietly on the kernels of many tiny
seeds, including those of figs, buttonwood and ironwood.
· Seen ideally three or four times each year around the weeping native fig trees at
Lake Eacham and near Chambers Wildlife Rainforest Lodges , which set fruit and
attract these parrots.