RED-BROWED FINCH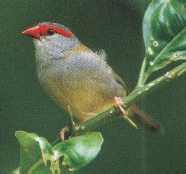 Photo: C & D Frith
Australia's Cape York Peninsula

RED-BROWED FINCH
Neochmia temporalis 11 cm
· The Red-browed Finch is endemic to moist regions of eastern Australia.
· Usually it forms groups that live within small areas for most of the year.
· Red-browed Finches live in rainforest clearings, eucalypt forests and woodlands,
heathlands, mangroves and in suburban areas.
· They feed mostly on grass seed but also take some other plant seeds, small fruits
and some insects.
· Groups can easily be seen eating grass seed in the rainforest clearing at
Chambers Wildlife Rainforest Lodge .