YELLOW HONEYEATER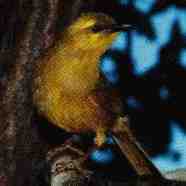 Photo: C & D Frith
Australia's Cape York Peninsula


ENDEMIC Tropical North QLD

YELLOW HONEYEATER
Lichenostomus flavus

19 cm

· The Yellow Honeyeater is endemic to north Queensland.

· It is common in open forests and woodlands with a shrubby understorey.

· Its rich whistling calls are uttered frequently throughout the day.

· Because it feeds commonly on nectar, it is often abundant even in cities where
native plants such as grevilleas an bottle-brushes have been used for landscaping.

· Near Chambers Wildlife Rainforest Lodge it is most readily seen round
Mareeba.