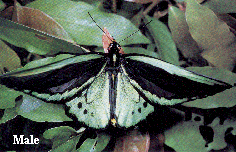 Photos: C & D Frith
Australia's Wet Tropics
Rainforest Life

Birdwing Butterfly (Ornithoptera priamus)

This butterfly is also referred to as the Cairns Birdwing.
It is the largest species of butterfly found in Australia, where the female has a wingspan of 20cm.
It has a slower, more relaxed flight than the Ulysses.
It too is found in the rainforest clearings.
The male birdwing is coloured in green gold and black.
It sometimes sets a territory near the larval food plant, a vigorous large leafed vine (Aristolochia tagala).
The males do an early morning patrol of their search of emerging females.
Females are often mated as soon as they emerge from their cocoons and it is not unusual for 2 or 3 males to be seen attempting to copulate with one female at once.