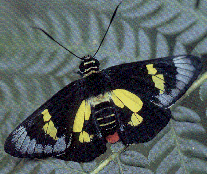 Photo: C & D Frith
Australia's Wet Tropics
Rainforest Life
Regent Skipper
(Euschemon rafflesia)
This butterfly belongs to the family Hersperiidae.
When resting, the adults open their wings almost flat (although this is normally how moths rest).
Adult Regent Skippers usually fly within the rainforest
Females are often seen circling a target plant prior to deciding o n which branch to lay her eggs.
Larvae feed on rainforest understorey shrubs.
These butterflies are of special interest to scientists as they are believed to be the most primitive species of butterfly in the world and it is thought to represent a link between moths and butterflies.
One of the distinguishing features of moths, is that they have an organ, named a frenulum which locks the hind and forewings together in flight.
Butterflies do not posses this organ with the sole exception of the male Regent Skipper Butterfly.