MACLEAY'S HONEYEATER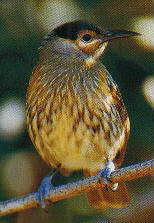 Photo: C & D Frith
Wet Tropics Rainforest Life


ENDEMIC Tropical North QLD
MACLEAY'S HONEYEATER
Xanthotis macleayana 20 cm
· Macleay's Honeyeater is endemic to the Wet Tropics region.
· It is common in rainforests at all altitudes. It can be seen about the rainforest and its edges, and at times, in orchards and gardens.
· It is harder to see than most other honeyeaters as it is unobtrusive. Its main call is a
musical 'to wit, too wee twit' song.
· Also making it more difficult to see, it remains higher than many of the other
honeyeaters in the rainforest.
· It searches amongst epiphytic growths and vines as well as gleaning from leaves.
Its diet consists of roughly 70 percent insects and spiders, 20 percent nectar, and
10 percent fruit.
· Because of its feeding habits, it plays an important role in the pollination of
rainforest flowers.
· The breeding season is from September to March.
·
Easily viewed at
Chambers Wildlife Rainforest Lodge
.