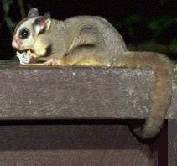 Sugar Glider: Petaurus breviceps
Blue-grey to brown-grey on dorsal surface, with a dark mid-dorsal stripe from between eyes to midback. Cream to Pale-grey underside.
Tail grey to black and sometimes tipped with white.
Habitat:
The Sugar Glider shelters in tree hollows which are usually leaf lined.
Diet:
Feed on gum produced by Acacias, saps of certain Eucalypts and invertebrates
Social Behaviour:
Live in social groups with up to seven adults and their young sharing one common nest.
Have calls of shrill yapping which warns others of danger approaching. Also have a sharp scream during fights and a gurgling chatter when disturbed.
The Sugar Glider can volplane up to fifty metres in length. Thrust by its hind legs, it leaps from a tree, spreading the membranes (like wings) which extend from each side of the body from the fifth finger to the first toe. Steering and stability is maintained by curvature of the right and left membrane.
Viewing Opportunities:
Honey is placed on the railings in front of the lodges at Chambers Wildlife Rainforest Lodge each evening for them to feed. Viewings can be expected every night in normal weather conditions.